---
This website is intended for the use of all Wildcat Cross Country athletes. Within this website you will be able to find a wealth of information on your team ranging from rosters, schedules, important updates, pictures, directions, and much, much more. I hope you enjoy what you find here and please never hesitate to make any type of recommendations to what you would like added to your website. Take care and Happy Running!
Mandatory Parent/Athlete Meeting on May 9th in the Large gym at Cy Woods at 6:30 PM, Attendance is mandatory. (click here for more info)
Summer Workouts begin on June 11th
Contact Caoch Zarate for details: gregory.zarate@cfisd.net

Click here for more info

PLEASE KNOW THIS IS NOT A CFISD PROGRAM AND IS NOT ASSOCIATED TO CFISD IN ANY WAY. A PHYSICAL IS REQUIRED TO PARTICIPATE. IF YO ARE A CFISD ATHLETE, YOU CAN USE THE CFISD FORM AND IT WILL BE TURNED IN FOR YOU TO YOUR DESIGNATED SCHOOL. IF YOU GET A PHYSICAL AT ANY OF THE SCHOOLS IN CFISD, YOU MUST BRING ME A COPY FOR YOUR FILE. PLEASE KNOW THAT PARTICIPATION IN THIS TRAINING PROGRAM DOES NOT GUARENTEE A SPOT ON THE CY WOODS CROSS COUNTRY TEAM.
---
2018 Cy Woods Cross Country Information

Please remember that in addition to filling our your medical history form and having your doctor fill out your physical form, you must also complete the rest of the required CFISD Physical packet online. All physical and paperwork information can be found here (click here)
---
4K Time Trial Results (2015 Results Click Here)
3K Time Trial Results (2015 Results Click Here)
---
---
Cy Woods Team Handbook (Full Version)
Cy Woods Rules and Expectations (2016 Condensed Version)
Cy Woods Nutrition Power Point
---
---
Travel Waiver
Choosing the Right Shoes - Use Fleet Feet for discount
---
2013 Varsity Girls State Finalist, Region III Champions, District 17-5A Champions
2010 & 2012, 2013 17-5A District Champions, Regional Runner-Ups
Varsity Boys and JV Boys
2012 Region III-5A Runner-Ups / State Qualifiers

2012 - 4th Place at State as a Team
2008 15-5A District Champions
Varsity Boys, Varsity Girls, Junior Varsity Boys, Junior Varsity Girls, Freshmen Boys

2011, 2012, 2013 Track State Qualifiers

Craig Nowak: 2011 & 2012 State Champion 1600 Meters (4:08 and 4:06), 2012 3200 Meters State Champion (8:59), 2011 Cross Country State Champion (15:16)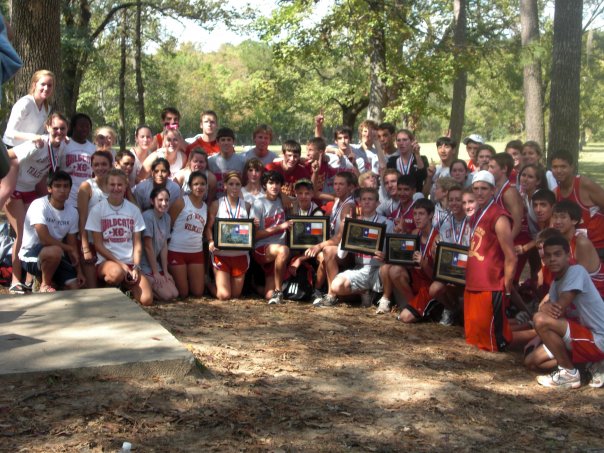 "SOMEWHERE IN THE WORLD SOMEONE IS TRAINING WHEN YOU ARE NOT. WHEN YOU RACE THEM, THEY WILL WIN."
"WHAT YOU DO WHEN YOUR COACH IS NOT LOOKING WILL DETERMINE WHAT TYPE OF ATHLETE YOU WILL BE"
"TO GET SOMETHING THAT YOU HAVE NEVER HAD, YOU MUST BE WILLING TO DO SOMETHING THAT YOU HAVE NEVER DONE"